cathannabel
I've been trying to write this piece for weeks now. Hesitating because, after all, why would anyone need to read the thoughts of a white, middle-aged, middle-class English woman about something she has never experienced, and could never experience? But nonetheless this post has been buzzing around in my head for so long, and I know that the only way to stop that is to write.
And, this morning, I woke as so many did to the awful news that Chadwick Boseman, the actor best known as the Marvel Cinematic Universe's Black Panther, has died at only 43 years old. I remembered how I felt in the cinema watching that film, how exhilarating it was to see the large screen filled with powerful, beautiful black people, in control of their destinies, white people largely irrelevant. And how I thought of what that must have felt like to people of colour, those who've seen movie after movie where they are absent, or peripheral, or victimised, or expendable. And those who have been waiting, whether they knew it or not, for a super hero who resembled them.
Some disclaimers. I'm not trying to prove anything here, not trying to get approval or validation. I'm talking, primarily, to other white people, about how we can learn and listen, how we can recognise and take account of our privilege, and know when to speak and when to STFU. If I get something wrong feel free to tell me (but I'm not asking you to educate me, that's my responsibility). I'm a work in progress, still, at 63. I expect and hope that I'll still be learning, expanding my understanding, for the rest of my life, whilst my faculties are intact at least.
So, where am I from? No, where am I really from? My upbringing was very different to that of anyone I went to school with in Chatham or Mansfield in the late 60s/early to mid 70s, very different to that of my cousins and other wider family. It shaped my response to the racial politics of the UK in that era and beyond. It influenced what I read, and what I watched.
When I was three years old, we (my parents, myself and my two younger siblings) flew to a new life in Ghana, West Africa. Of course we were massively privileged in our lives there, in the immediate aftermath of independence, living on the University campus in Kumasi, where my father taught Physics and Maths. We were 'expats', not immigrants. No one expected us to integrate, to assimilate, to adopt Ghanaian dress or diet, or to learn the language. My school teachers were all British, my classmates included Ghanaian children, but also British, American, Canadian. (When we moved to Northern Nigeria, there were no African children in my class. Not one.)
That upbringing did not give me a means to understand what it is to be black in Britain. My white skin gave me privilege as a member of an ethnic minority in West Africa as it does here where it makes me part of the norm. But those childhood experiences did broaden my horizons, expand my consciousness and my sympathies, and gave me a wealth of experiences against which to measure the attitudes and assumptions I encountered back home.
I think first of all, of the Door of No Return. Cape Coast and Elmina Castles, two of the forts on the Ghanaian coast which were the point of departure for the slaves, the last place they saw before they were crammed into the holds of the ships for the Atlantic crossing. I don't recall in detail what my parents told me about their history when we visited, but I still recall the place, and the association with horror, the chill, even in the humid heat of Ghana.
I remember the first time I heard a white person say something casually racist. I remember not so much shock or offence, but bafflement. It seemed to me so incomprehensibly stupid, to generalise in that way. It made no sense to me then, that first time, in Africa, any more than it did later, in Chatham or Mansfield. I never knew how to respond – where do you begin, with something so incomprehensibly stupid?
My memories of Ghana are vivid, warm, happy. I know I can lay no claim to Ghana as part of my heritage – I lived there for just five – albeit formative – years. When I use my Ashanti day name, Abena (girl born on a Tuesday) as part of my Facebook name, when I use an image of kente cloth as the background to my Twitter profile, am I, as I hope and intend, honouring a part of my life for which I am immensely and profoundly grateful, or am I appropriating something to which I have no right? But those things (and my support for the Ghana national football team, and my love of West African music) feel like part of me.
Our parents taught us well. At an early age (before we came home to England, so before I was ten years old) I knew that whilst other 'expats' were planning, in light of the rapidly deteriorating situation in Nigeria, to move to jobs in Rhodesia or South Africa, my parents never would. And they taught me why. (Their passionate opposition to those regimes would probably have made them persona non grata anyway.)
I knew that Martin Luther King was an important man, a good man, who represented the values that my parents were teaching us, and they had taught me well enough that I knew by the time I was ten years old that his murder was a terrible thing, a huge loss to the world.
As a teenager, I was drawn to the American civil rights struggles, and I read everything I could get hold of. I read MLK, Angela Davis, George Jackson, James Baldwin, Malcolm X.
But one of the most powerful books for me was by a white man. John Howard Griffin, a white journalist, disguised his skin with a combination of medication (anti-vitiligo treatment), tanning and cosmetics, and went South. He was motivated by the recognition that the only way to know what it was like to be black in the USA, was to become black in the USA. Of course it wasn't the same – he had an exit strategy (although he was subjected to threats and a near-fatal attack when the book was published and his identity revealed), and he had experienced most of his life up to the point of his self-transformation as a white man with all the privileges that entails. But his account is viscerally compelling. What stayed with me from my first reading was the 'hate stare' – something I would never experience, almost certainly never witness.
Alex Haley's Roots (whether it is fiction or history, or a blending of the two) gave me a black epic, a story that spanned centuries and continents, that took up the story of the people who had been herded through the Door of No Return, and did not flinch from the brutality of slavery and of the injustice that persisted for so long after.
I almost never talked about my interest in the politics of race, not to my schoolfriends. I feared discovering that their response would make friendship problematic, or impossible. And, to be honest, as a teenager desperate to fit in, I feared being regarded as nerdy or odd. We talked about pop music, telly and boys, not about politics. And the strange culture of the times meant that one tribe listened to virtually no black music (though they allowed a free pass to Hendrix), whilst another listened to mainly African-American and Caribbean music, whilst being associated with prejudice against people of South Asian origin, and with the nascent National Front. It was dangerous territory, even though in my grammar school there was, throughout my years there, just one non-white girl (from India, as I recall), and in the Mansfield area at the time, the largest immigrant community was Polish. I kept reading though, just didn't talk about it.
I read a number of the Heinemann African Writers series from my parents' bookshelves (Chinua Achebe, Buchi Emecheta, Bessie Head, Ngugi wa Thiongo, Camara Laye, Wole Soyinka). I read Alan Paton's Cry the Beloved Country, and Trevor Hudleston's Naught for your Comfort. I read E R Braithwaite's Please Sir (a whole heck of a lot less soppy than the film) and Paid Servant.
And those books, and world events, led me on to Steve Biko and Nelson Mandela, to Maya Angelou and Toni Morrison, to Kwame Anthony Appiah, David Dabydeen and more recently to Reni Eddo Lodge and David Olusoga.
Meantime, the sound of Ghana, the highlife music that had wafted over from the student residences to our home on campus, was part of me. I was prepped to respond to black American music, to Motown and Stax and Philly, and to ska and reggae. And then I heard Osibisa, and that started a journey of exploration of African music – music from all over that continent, but finding the sounds of Mali and Senegal took hold of me in a way that no other music did. I still feel that way.
For all this, I realised part way through this year, as I nerdily compiled my list of what I'd read, that it was disappointingly, dispiritingly, shamefully white. Somehow I'd kept on gravitating (during what, to be fair, has been a brutal year, full of loss and sadness) towards familiar voices, familiar histories, familiar settings. That this realisation coincided with the resurgence of the Black Lives Matter protests following the murder of George Floyd is no coincidence at all.
However well I have been taught, however widely I have read and listened, my life can still be told (if one skips those few years in 'darkest Africa', as my grandfather always referred to it) without reference to my race. My journey through school and work, marriage and parenthood, has been untroubled by the colour of my skin. I have experienced prejudice, sure, as a woman in the workplace, and as a girl and woman in public spaces. I can extrapolate from those experiences, but it's not enough, nowhere near.
So I need to read black writers, to hear those voices, those experiences and to let them expand my ideas, my sympathies, my knowledge. It's powerful, and sometimes uncomfortable. But it's a process that started when I was 5 or 6 years old, looking out of the Door of No Return.
Black lives matter. Of course they do. As the wonderful Dolly Parton put it, "…of course Black lives matter. Do we think our little white asses are the only ones that matter? No." My words will make no real difference, I have few illusions on that front. But perhaps I will prompt someone to read more widely, to read more stuff by people who don't look like they do, to risk being made uncomfortable, being challenged to rethink their assumptions, their bias, the language they use. Perhaps.
And would I take the knee? It's a beautiful gesture, one of honour and respect. I wasn't sure at first why it moved me so much, till I saw the photos of MLK and remembered. Yes, I'd take the knee, in a heartbeat. It might take a bit longer for me to get up again though…
My 2020 Reading List (so far):
Chimamanda Adichie – Dear Ijeowole
Arvind Adiga – The White Tiger
Jeffrey Boakye – Black: Listed
NoViolet Bulawayo – We Need New Names
Angela Davis – Women, Race and Class
Nicole Dennis Benn – Patsy
Jason Diakite – A Drop of Midnight
Bernardine Evaristo – Girl, Woman, Other
Yaa Gyasi – Homegoing
Mohsin Hamid – Exit West
Afua Hirsch – Brit(ish)
Meena Kandasamy – When I Hit You
Andrea Levy – The Long Song
Attica Locke – Pleasantville
Kenan Malik – From Fatwa to Jihad
Yvonne Adhimabo Owuor – Dust
Laksmi Pamuntjiak – The Birdwoman's Palate
Johnny Pitts – Afropean
Sunjeev Sahota – The Year of the Runaways
Kamila Shamsie – Home Fire
Margot Lee Shetterley – Hidden Figures
Nikesh Shukla (ed.) – The Good Immigrant
Ron Stallworth – Black Klansman
Colson Whitehead – The Nickel Boys
Phil Davis writes about the current refugee crisis, with a deep understanding of the issues, and with both passion and compassion,
A darkened room
"The UK has a proud tradition of providing asylum to those who need it and the safety and wellbeing of those in our care is of the utmost importance."
I know this to be true. The Home Office repeat it frequently. Somewhere in comms in Croydon (I assume its Croydon – I don't really know) there is someone who has that phrase set up to paste on ctrl V. This time it came from a response to Nigel Farage. By the time you read this it will have been said again in some other context.
So the appearance of gunboats in the English channel is puzzling.
Apparently, taking advantage of our proud tradition most of the world's economic migrants are passing through France to get to Britain via the channel where they will either claim our benefits or take our jobs. Possibly both.
So lets do this. First the numbers…
View original post 415 more words
We're halfway through this strange, sad year. In theory, there's been more time for reading since lockdown. But at times this year, not just due to Covid, I haven't found it easy to focus on a book. Nonetheless, I've read a lot, and these are some of the highlights. In general, they reflect my need for what the brilliant Attica Locke recently described (in a tweet about Nicole Dennis Benn's lovely novel Patsy, which I am reading at present) as 'uplift with heft'. Too cosy and too obviously intended to be 'heartwarming' and I get angry, because life isn't cosy, things don't always work out OK, people die, people are sick, people are broken. Too grim and I just can't bear it, not now, not in the midst of all this. There has to be something that lifts me up, some element of hope, the possibility of change for the better, the capacity of people to exceed one's expectations, to be better and to do better.
There's only one title here that specifically references the pandemic. But several of the fiction and non-fiction titles reflect my realisation part way through the year that my reading so far had been dismayingly white. It seemed appropriate, in the midst of the #BlackLivesMatter protests worldwide, to address that.
This isn't everything I've read. I've missed a few re-reads, and I have, as I always do, omitted things I found mediocre, or clunky. This is the good stuff.
Fiction
Melanie Abrams – Meadowlark. A bow drawn at a venture, and a thoroughly good read. Like Glaister's Chosen, it's exploring the world of closed communities (aka cults), how seductive and deadly they are.
Belinda Bauer – The Shut Eye. A missing child mystery that doesn't follow the path you expect, that is troubling and puzzling and shocking in all sorts of ways. Bauer is described by the Independent as 'either so quirkily idiosyncratic – or just plain bloody-minded – that [her] books resolutely resist conforming to whatever the latest modishness is'.
Nicole Dennis-Benn – Patsy. I'm reading this on the recommendation of Attica Locke, as mentioned above. Patsy is a Jamaican immigrant in New York, living the precarious life of the undocumented, a life that separates her not only from her home and family, but from the hopes that brought her here.
Alan Bennett – The Uncommon Reader. This made me laugh, rather a lot, at a time when laughter was in short supply. Brilliantly witty and sharp, it also manages to be oddly touching.
Arnold Bennett – Hilda Lessways. This is Part 2 of his Clayhanger series, written in 1911, set in the Midlands in the late 19th century, with a female protagonist who blazes off the page.
William Boyd – Love is Blind.  This is a tour de force, and my favourite of his books so far. It's clever, but never just clever. 'Audaciously unpredictable' as the Guardian put it. The narrative takes us from Victorian Scotland to Paris to Russia and to the Bay of Bengal, it's romantic and vivid, and totally engaging.
NoViolet Bulawayo – We Need New Names. Fine, powerful writing – and with humour amongst the grim. The trajectory is familiar – the African diaspora, in this case from Zimbabwe to the USA, but the voice is fresh.
Jane Casey – The Cutting Place. The latest Maeve Kerrigan, and quite possibly the best yet (I probably say that each time, but the series really does keep upping its game).
Lissa Evans – Old Baggage. A writer I've discovered only recently. I read Spencer's List earlier this year, and after Old Baggage, I read its sequel, Crooked Heart, and eagerly await V for Victory in August. Funny and moving, with characters that get under your skin and into your head and your heart.
Nicci French – The Lying Room. This is the first I've read from the husband and wife team of Nicci Gerrard (who I know as a campaigner for dementia patients in hospital, and author of the powerful and moving What Dementia Teaches us about Love) and Sean French. And very good it is too – steeped in secrets and lies. I will read more.
Tana French – The Trespasser. Latest in the splendid Dublin Murders series. Though we call it a series, French's distinctive technique is to shift the focus from novel to novel, so that a peripheral character in one becomes the main protagonist in the next.
Patrick Gale – Take Nothing with You. One of his best. And the writing about music is so vivid that I could almost hear it as I read.
Lesley Glaister – Chosen. The latest from a favourite writer whose work I've been following for many years, a gripping and intense psychological thriller, like Meadlowlark, exploring a closed community. Very twisty.
Elizabeth Goudge – The Bird in the Tree / The Herb of Grace / The Heart
of the Family. First read when I was a teenager, and returned to in the hope of 'uplift with heft', The Eliots of Damerosehay trilogy is mystical, romantic, intense – all about hope, and the redemptive power of place
to heal broken humans.
Elly Griffiths – The Lantern Men. The new Ruth Galloway. Always feel like I'm meeting up with a friend when I read these, I'd love to go down the pub with Ruth (when that sort of thing becomes normal again, obviously). And of course, there's a splendid mystery, and the cast of supporting characters is drawn with humour, insight and affection.
Yaa Gyasi – Homegoing. I've had this one in my TBR pile for a while, but it felt as though this was the time to open it. It's a complex narrative, on a huge scale (centuries, continents). It starts, though, in places that resonate with my own childhood in Ghana in the early 60s – Cape Coast Castle and Kumasi. Often harrowing, always compelling.
Emma Healey – Whistle in the Dark.  By the author of the excellent Elizabeth is Missing, a mystery with an ending that is both terrifying and moving.
Mick Herron – Dead Lions. Second in his Slow Horses series, about a department of MI5 rejects – acerbically funny but without pulling any emotional punches.
Susan Hill – The Benefits of Hindsight. The latest in her excellent Simon Serailler detective series, as always musing on mortality and morality whilst solving the crime.
Judith Kerr – Out of the Hitler Time. This is a trilogy of lightly fictionalised autobiography by the late and dearly beloved author of Mog and The Tiger who Came to Tea, starting with the Kerr family's narrow escape from Nazi Germany.
Philip Kerr – Metropolis. Sadly the last in the brilliant Bernie Gunther series of detective novels set before, during and after the Nazi era.
Stephen King – If It Bleeds. This guy is unstoppable. A collection of short stories, two of which are kind of standard King – which is still a very good thing – and two of which are classic King which is brilliant.
John le Carré – Legacy of Spies. One more, probably last, Smiley novel from the master. It has an elegiac tone, including a final eulogy to the dream of European collaboration and unity.
Andrea Levy – The Long Song. Very powerful and moving. I loved the storyteller's voice, the dialogue and the ongoing arguments between her and the person who's pressing her to tell the story, the gaps that can't be filled.
Laura Lippman – The Lady in the Lake. Another excellent psychological thriller from Lippman, a polyphonic narrative, using glimpses of events from a number of different points of view to complement or contradict the protagonist's perspective.
Attica Locke – Pleasantville. Sequel to Black Water Rising, which I read last year, it picks up the story of black Texas lawyer Jay Porter fifteen years after the events of that book. It's a riveting plot, with a great cast of complex characters and the ability to move between state politics and the domestic exigencies of single parenthood with grace and perception.
Adrian McKinty – The Cold, Cold Ground. First of his Belfast-set Sean Duffy crime series, which I will definitely be following up.
Denise Mina – Still Midnight. Starts with an Asian family facing a home invasion, doesn't go where you expect it to, gets hold of you and doesn't let you go till the last page.
Sarah Moss – The Tidal Zone. I properly got into Moss last year and this year have read The Ghost Wall and this one, which is entirely different again (one never does know quite what to expect with Moss). As the Guardian says, this is a novel about the NHS, which makes it rather timely, and about parental anxiety, but also about art, and ideas.
Maggie O'Farrell – This Must be the Place. Always brilliant. Not my top O'Farrell but excellent. As the Guardian says, she is 'a deft and compelling chronicler of human relationships'.
Louise Penny – A Fatal Grace. The second in the Inspector Gamache series, set in a small Québécois town. They're not at the gritty end of crime fiction (it's been said that they're modelled on the classic British whodunit) but that doesn't mean they're superficial or cliched.  
Susie Steiner – Remain Silent. We've had a long wait for the new Manon Bradshaw but it was worth it. Manon is a tremendous, real, often abrasive and annoying central character. And one can't be unaffected by the knowledge that Steiner has been undergoing treatment for a brain tumour, and that the latest news is not good.
Elizabeth Strout – Olive Kitteridge. I read Abide with Me last year, and this is the third Strout I've read this year. Exceptionally good, deeply empathetic, a novel in interlinked short stories (like Anything is Possible).
Meg Waite-Clayton – Beautiful Exiles. This is a fascinating novel about the formidable Martha Gellhorn. Gellhorn hated being described as the third Mrs Hemingway, so I did wish that Waite-Clayton had continued the story after she finally dumped Hemingway…
Elizabeth Wein – The Enigma Game Another brilliant WWII YA novel from the author of Code Name Verity. Thrilling and moving stuff.
Colson Whitehead – The Nickel Boys. This one I think even surpasses The Underground Railroad. It's devastating. Brilliantly constructed, and with a twist that's no gimmick, and a protagonist who you want so very badly to be OK whilst knowing the odds against that…
Non-Fiction
Chimanada Ngozi Adichie – Dear Ijeawele, or A Feminist Manifesto in Fifteen Suggestions.  My favourite contemporary African writer, passing on her thoughts on feminism to a friend, who's asked her advice on raising a daughter. The feminism itself isn't revelatory but Adichie is writing from within the Nigerian Igbo culture that she and her friend share, and that makes it fresh and engaging.
Angela Davis – Women, Race and Class. Davis was one of my heroines, when I was educating myself about the civil rights movement as a teenager. She was, and is, awesome. This was written in 1983, and it's ahead of the game in terms of what we would now call intersectionality, tracing the connections between the abolitionist movement, the suffragists, and the civil rights struggle to show how those priorities, those needs, coincided or conflicted.
Dorothy Day – The Long Loneliness. I knew absolutely nothing about Day until my son discovered her, whilst doing an MA in American History. She was a remarkable woman – a Catholic socialist anarchist, a journalist and activist, who co-founded the Catholic Worker Movement, and faced controversy for her refusal to support Franco in the Spanish Civil War. This autobiography was published in 1954 (she died in 1980). As baffling as I find her religious faith, her account of the social and political upheavals in which she was involved is fascinating.
Jason Diakite – A Drop of Midnight. Another fascinating memoir from someone I hadn't heard of! Diakite is a black Swedish rapper, and here he explores his family history and his father's roots in the American south, and musing on music, race, and the importance of shiny shoes.
Lara Feigel – The Love Charm of Bombs. The Blitz through the eyes of writers (including Graham Greene and Elizabeth Bowen) who lived through it and did their bit in some way (air-raid wardens, ambulance drivers, etc). The most interesting, actually, is the exiled Austrian novelist Hilde Spiel.
Alan Garner – Where Shall we Run to? A beautiful, brief memoir of growing up in a landscape that's steeped in history (ancient and family) and in mythology, the landscape that inspired Garner's novels, from his children's book The Weirdstone of Brisingamen to his most recent novel, Boneland.
Atul Gawande – Complications: A Surgeon's Notes on an Imperfect Science. These are essays written whilst Gawande was doing his general surgery residency, focusing on fallibility, mystery and ethics. Honest, inspiring and terrifying.
Heda Margolius Kovaly – Under a Cruel Star. Cruel indeed – Kovaly survived the Łódź ghetto and Auschwitz, and escaped the death march to Belsen, but under the postwar regime in Czechoslovakia, her husband was murdered in one of Stalin's show trials – the Slansky trial, which mainly targeted Jews, and she, tainted by association with a 'traitor', struggled to survive before escaping west in 1968.
Diarmaid MacCulloch – Thomas Cromwell. Homework, if you like, for my reading of The Mirror and the Light. It's notable how much respect is given here to Mantel's grasp of the history. It's a hefty tome, but fascinating. I can't pretend I was equipped to really appreciate the finer points of Tudor politics, but I got a lot from the book, nonetheless.
Ben MacIntyre – Double Cross. Another extraordinary account of WWII espionage. If this was a novel one might accuse it in places of implausibility – a cast of extraordinary characters and plots of extraordinary audacity, on which millions of lives depended.
Kenan Malik – From Fatwa to Jihad. The updated version of Malik's 2010 exploration of how the Rushdie affair transformed the debate worldwide on multiculturalism, tolerance and free speech, helped fuel the rise of radical Islam and pointed the way to the horrors of 9/11, 7/7, Charlie Hebdo…
Lucy Mangan – Bookworm. This memoir of a childhood spent reading, voraciously, obsessively, constantly reading, really spoke to me… Mangan is a lot younger, and so some of the books that she devoured were too young for me by the time they came out, but she read everything, so there's a lot of common ground. Very funny, absolutely delightful.
Eva Noack-Mosse – Last Days of Theresienstadt. Noack-Mosse was deported in early 1945 to the Nazi concentration camp of Theresienstadt. Working in the camp office, she compiled endless lists for the SS, but also her own clandestine statistics and observations. Postwar, this evidence not only helped to reconnect displaced people with their family and friends (or at least to know their fates) but also contributed to war crimes trials.
Marcus O'Dair – Different Every Time. Authorised biography of wonderful musician Robert Wyatt. Affectionate and admiring, but clear-sighted, it's a fascinating insight into the music and, with it being Wyatt, the politics.
Maggie O'Farrell – I am, I am, I am: Seventeen Brushes with Death. The only writer to crop up in both the fiction and non-fiction sections of this blog. Incredibly tense, these encounters with death are nonetheless about life. O'Farrell was inspired to write it because of her daughter's severe immune disorder and the experience of facing down death with and vicariously through her daughter.
Pete Paphides – Broken Greek. In a way, this is the musical equivalent of Lucy Mangan's memoir. It's the account of a childhood where music – the pop music of the era, as naff as it often was – had overwhelming power and significance. It's also a story of chip shops, where his Greek-Cypriot parents worked to support their family, and of colliding cultures. It's very funny, and joyful.
Johnny Pitts – Afropean. I was always going to want to read an exploration of blackness and European identity that starts in my own home town of Sheffield, before heading out to Paris, Amsterdam, Brussels, Lisbon, Moscow… Whether or not Pitts finds his tribe on this quest, as the Guardian puts it, 'Afropean announces the arrival of an impassioned author able to deftly navigate and illuminate a black world that for many would otherwise have remained unseen'.
Rebecca Solnit – Men Explain Things to Me. A 2014 collection of essays, of which the title essay is the earliest (2008) and is credited with launching the concept of 'mansplaining' (not the term, which Solnit doesn't use or like). Solnit is witty, clear, and absolutely furious. Excellent stuff.
Laura Spinney – Pale Rider. This could hardly be more pertinent – a study of the 'Spanish' flu pandemic of 1918-19, how it spread, how it was treated, how different governments responded. Lots of parallels, of course, with our own time. Where we are lucky is that our own pandemic does not follow directly on one of the most destructive wars in history, with populations exhausted, malnourished, displaced. We could have learned a lot, though, if the right people had been interested in learning rather than posturing…
Ron Stallworth – Black Klansman. The story behind Spike Lee's brilliant BlacKkKlansman, a story which one might have assumed to be a parable rather than reality. Stallworth himself didn't tell how he infiltrated the KKK until 2006, and this account was only published in 2014. It's fascinating and astonishing. It's not just about the Klan, of course, it's about what it was to be a black cop in the 1970s in the USA.
Under lockdown, I've travelled through time and around the globe. I've been back to 16th century England, 18th century Ghana, 19th century France and Russia, Nazi Berlin, Iron Curtain Prague. I've been to Jamaica, the Andaman Islands, Zimbabwe, Nigeria. I've been all over the US – Baltimore and Texas, Maine and Florida, Colorado and South Carolina, New York and Detroit. I've been all over my own homeland too. I've shared lives and experiences that are close to my own, and others that are so utterly different that I could never have imagined them.
Thanks to all of the writers who've opened those doors to me. Whatever else the second half of 2020 brings, there will be more books, more doors into other lives and experiences. I'll let you know what I find.
What better way to draw this series of Refugee Week blogs to a close than with music? Refugees have always carried the music of their home with them, wherever they have travelled, and treasured it, wherever they have settled. The richest and most beautiful music we can hear, from whatever tradition, has been nourished by the music brought in by those travellers, the songs that have sustained them through hardship, the melodies that remind them of home.
None of us knows what the next year will bring. The virus has both ignored borders, and reinforced them. It poses a threat to us all, but most seriously to those already vulnerable due to age, health and living conditions. Refugees and asylum seekers are and will continue to be amongst the most vulnerable. And whatever happens during the course of the year, for good or ill, there will still be refugees. There will still be wars and persecution and famine and terrorism, forcing people to leave home. There will still be camps full of people in transit, waiting for the chance to leave for a more stable life somewhere else. And there will still be fragile crafts launched on to the oceans, full of people hoping for landfall somewhere that they will find safety.
Last year, Opera North put on a production of Bohuslav Martinů's powerful and pertinent opera, The Greek Passion. Martinu was a Czech composer, who was working in Paris when the Nazis invaded his homeland, and then had to flee France for Spain and then Portugal, before settling in the US. The opera, written in the 1950s, tells of a village whose inhabitants are putting on their annual Passion Play, when the arrival of a group of refugees challenges their community, their values and their courage.
It is an opera about migration, about society's rejection of the destitute and the desperate when they arrive at our gates for help, about the dangers of failing to challenge populist rhetoric, about the manipulation of society by those in authority. It's also about compassion, humility and, ultimately, tragedy.

As the manager of a small inner city community project based in Leeds called Meeting Point, I work with refugees and asylum seekers every day and I find it quite extraordinary that an opera written all those years ago can be directly relevant to the day to day work that I do now, as well as the lived experience of thousands of individuals across the UK today.

Emma Crossley, Meeting Point

https://www.operanorth.co.uk/news/a-face-to-the-stranger-refugees-and-the-greek-passion/
Part of Opera North's Lullaby Project, People's Lullabies are performed by participants in the company's Community Partnerships scheme, which works with local organisations to provide access to live opera and music for people who might otherwise encounter barriers to those experiences. The Refugees and Asylum Seekers' Conversation Club at Mill Hill Chapel, Leeds, provides tea, coffee, healthy food, nappies, sanitary protection and toiletries to vulnerable families who have had to leave the countries they love because of war and persecution.
Soundroutes is an initiative that networks musicians of very different international backgrounds in new homelands. The Soundroutes project created the Soundroutes Band, with members from scattered new domiciles in Berlin, Brussels, and Rome. Shalan Alhamwy on violin, Alaa Zaitounah on oud, and drummer Tarek Al Faham are all from Syria, Papis "Peace" Diouf of Senegal is on guitar. The group mixes tracks of Arab tradition and African rhythms, but leaps out to free jazz. In a related combo, Peace Diouf rearranges and composes powerful traditional Senegalese grooves as jazz with Roberto Durante on piano and Hammond organ, Giancarlo Bianchetti on guitar, and drummer Moulaye Niang,

https://www.allaboutjazz.com/refugee-music-in-europe-migration-asylum-soundroutes-and-arab-jams
muziekpublique.be/artists/refugees-for-refugees
Music from Za'atari refugee camp:
With his brow furrowed in concentration, Abu Abdullah rhythmically strums his oud, exploring the core of a melancholic melody. Mohamad Isa Almaziodi's robust and melismatic voice soars above, full of emotional ornamentation – sighing and repeating, rising and falling – until he runs out of breath and the phrase is forced to finish. In his song, Mohamad is singing about how strange life is, how harsh the nights are: 'Oh this life is so strange… our home became very far. Very far.' But before he can finish, he is overcome by homesickness and with his head in his hands, he cries. He is crying for his beloved country and for the father he left behind.

https://www.songlines.co.uk/explore/features/songs-of-the-syrian-refugees
The band Musicians in Exile is based in Glasgow, and is made up of refugees and asylum seekers.
Afshin Karimi is sitting in a circle of musicians, his eyes tightly closed as he taps his foot in time with the beat. He waits patiently for his moment, then opens his mouth and sings. Music is part of the reason that the 44-year-old Iranian singer and keyboardist found himself here, in a makeshift rehearsal room overlooking a busy Glasgow street, thousands of miles from home. He fled his country three years ago, not only because he feared persecution after changing his religion, but because the kind of music he was making was banned by authorities.

https://inews.co.uk/news/scotland/musicians-in-exile-meet-britains-most-unorthodox-band-made-up-of-asylum-seekers-and-refugees-299705
Some facts and figures…
Every day 44,000 people are forced to flee their homes because of conflict or persecution
68.5 million people around the world (more than the population of the UK) are displaced
Each day in 2018, six people died trying to cross the Mediterranean
57% of refugees worldwide are from just three countries — South Sudan (at least 2 million displaced as a result of the Civil War which began in 2013), Afghanistan (2.6 million refugees, 95% of whom are hosted in Iran and Pakistan) and Syria (6.3 million have fled the conflict. Around 3.5 million are hosted in Turkey).
At least 700 thousand Rohingya refugees have fled Myanmar since 2017
2020 World Refugee Day Statement by UN High Commissioner for Refugees Filippo Grandi:

We are marking this year's World Refugee Day against a backdrop of a dramatic global crisis. Not only are record numbers of people forced to flee their homes, but the world is grappling with COVID-19, a disease that is still very much affecting us all. What started as a health crisis has expanded, and today many of the most vulnerable – refugees and the displaced amongst them – face a pandemic of poverty.

Yet, throughout this challenging time, we have also seen a connectedness that transcends borders. Ordinary people have stepped up to help. Host communities – especially those in low- and middle-income countries where nearly 90 percent of the world's refugees live – have continued to demonstrate a remarkable welcome.

And refugees themselves are also contributing in significant ways, despite often living in extremely vulnerable conditions. They are, for example, volunteering as front line health workers in Colombia and the United Kingdom; making soap for distribution in Lebanon and Niger; sewing masks and protective gear in Iran; helping construct isolation centres in Bangladesh; and elsewhere around the world, they are contributing time to help the needy in their host communities.

As we battle COVID-19, I draw inspiration from the resilience refugees have shown in overcoming their own crisis of displacement and dispossession; their separation from home and family; and their determination to improve their own and others' lives, despite these and other hardships.

On World Refugee Day, I salute and celebrate the fortitude of refugees and displaced people around the world. I also pay tribute to the communities that shelter them and that have demonstrated the universally shared values and principles of compassion and humanity. They have sometimes hosted and protected refugees for years or even generations, and continuing to uphold these values in a time of pandemic is a powerful message of hope and solidarity.

UNHCR is no stranger to challenges. For over 70 years we have been on the frontlines of countless emergencies. Yet this global pandemic is of an entirely new magnitude. Our priority has been and will be, to stay and deliver for the refugees, internally displaced and stateless people we are mandated to protect. But we can't do it alone.

Mobilizing help and support to prepare and respond to the pandemic has been vital in the past months. And we have seen how countries and communities around the world have included refugees in their own national health responses. It is now equally critical to secure refugees' and displaced persons' inclusion in the much-needed socio-economic response to the COVID-19 pandemic.

The Global Compact on Refugees has laid a strong foundation for this response. We have already seen it in action as bilateral donors, international financial institutions, and the private sector have responded to this crisis with unprecedented levels to support refugees through host governments. Such support must continue and be redoubled so that they have the resources necessary to include refugees and displaced people and ensure that economic and social disparities do not lead to rifts within and between communities. More must also be invested in countries of origin to make the return of refugees a viable option.

On this World Refugee Day, I call for greater global solidarity and action to include and support refugees, internally displaced and stateless people as well as their hosts.

Whoever you are. No matter where you come from. Every one of us can make a difference.

Every action truly counts.

https://reliefweb.int/report/world/2020-world-refugee-day-statement-un-high-commissioner-refugees-filippo-grandi
Every refugee represents a human tragedy. Each one has a story – of fear, of trauma, of desperation, of determination. This poem by Warsan Shire reminds us of that truth.
Home
no one leaves home unless
home is the mouth of a shark
you only run for the border
when you see the whole city running as well

your neighbors running faster than you
breath bloody in their throats
the boy you went to school with
who kissed you dizzy behind the old tin factory
is holding a gun bigger than his body
you only leave home
when home won't let you stay.

no one leaves home unless home chases you
fire under feet
hot blood in your belly
it's not something you ever thought of doing
until the blade burnt threats into
your neck
and even then you carried the anthem under
your breath
only tearing up your passport in an airport toilet
sobbing as each mouthful of paper
made it clear that you wouldn't be going back.

you have to understand,
that no one puts their children in a boat
unless the water is safer than the land
no one burns their palms
under trains
beneath carriages
no one spends days and nights in the stomach of a truck
feeding on newspaper unless the miles travelled
means something more than journey.
no one crawls under fences
no one wants to be beaten
pitied

no one chooses refugee camps
or strip searches where your
body is left aching
or prison,
because prison is safer
than a city of fire
and one prison guard
in the night
is better than a truckload
of men who look like your father
no one could take it
no one could stomach it
no one skin would be tough enough

the
go home blacks
refugees
dirty immigrants
asylum seekers
sucking our country dry
niggers with their hands out
they smell strange
savage
messed up their country and now they want
to mess ours up
how do the words
the dirty looks
roll off your backs
maybe because the blow is softer
than a limb torn off

or the words are more tender
than fourteen men between
your legs
or the insults are easier
to swallow
than rubble
than bone
than your child body
in pieces.
i want to go home,
but home is the mouth of a shark
home is the barrel of the gun
and no one would leave home
unless home chased you to the shore
unless home told you
to quicken your legs
leave your clothes behind
crawl through the desert
wade through the oceans
drown
save
be hunger
beg
forget pride
your survival is more important

no one leaves home until home is a sweaty voice in your ear
saying-
leave,
run away from me now
i dont know what i've become
but i know that anywhere
is safer than here

Warsan Shire, "Home," Seekershub.org, September 2, 2015
My earlier post looked at the immense challenges faced by asylum seekers during the pandemic. It would be wrong to leave it there. In communities across the UK, refugees are stepping forward to help, to offer their expertise and energy.
Four years ago I wrote a piece for Refugee Week, talking about what it is that refugees hope for when they arrive here.
We'd want to have a place where we can shut our door and hang up our hats, and sleep without fear, and be with the people we love. We'd want the chance to work, to use our skills to earn enough to provide for ourselves and the people we love, to prepare healthy meals, to buy new shoes for the children as they grow, to be warm enough in winter. We'd want the chance to learn, new languages and new skills, and we'd want our children to go to school and learn all that they need to make their way in the world, and to make friends and play.

We'd want to become part of a community. Paying our way, making a contribution, chatting to our neighbours, free of the threat that there will be a knock on the door early one morning and we'll be sent away, back where we came from, or just away, to anywhere that's not here.
The Metro highlighted other examples. Majeda Khoury, a refugee from Syria, has used her catering company, The Syrian Sunflower, to provide at least 400 meals for struggling families during lockdown.
After the pandemic broke out, Majeda, 47, started cooking and dropping off meals to the residents of Ealing on her bike. The cook was forced to take two months off after falling ill with coronavirus but as soon as she was well again, she was back in the kitchen preparing 200 meals for families in need during Ramadan. She told Metro.co.uk: 'I believe that volunteer work is very important. Especially in times like this, I feel a responsibility to my community.'

https://metro.co.uk/2020/06/16/how-refugees-are-leading-way-helping-uk-communities-pandemic-12855071/?ito=cbshare&fbclid=IwAR2XzN7S7OJJJO1dwkMLX3w2_44ne-LAcVqftJEFjGtu_Uaj86HklwvuhUw
Mazen Salmou, also from Syria,
Maz may have only been living in Bromsgrove, Worcestershire, for less than two years, but in that short space of time he has already become a cherished member of the community. When the pandemic broke out, the 40-year-old, originally from Damascus, Syria, couldn't sit back and watch people struggle. So, he decided to sign up as a volunteer with Bromsgrove Community Support Group, which provides essential help to the elderly and those shielding. Every day of the week, the broadcast journalist has been on his bike delivering pharmacy prescriptions and shopping to the doorsteps of vulnerable locals. Maz estimates he has dropped off essentials to around 300 households so far. He has also been volunteering with a local support helpline listening to residents who are struggling with their mental health during lockdown.
Owner of Nigerian catering company Nana Nokki, Chineze has provided at least 200 healthy meals for struggling families during lockdown, and Maria Igwebuike, owner of lingerie brand Maria Callisto has put her seamstress skills to use, making face masks with a vintage twist. She sells her masks online, with a portion of funds going to charity.
Refugees are also on the frontline. Like Mohamad Kajouj, from Syria.
His expertise has been vital treating Covid-19 patients at York Hospital's A&E ward – often working two weeks in a row when colleagues have fallen ill. But the exhausting, traumatic and challenging work has not fazed the doctor, who was forced to flee his war-torn home country and seek asylum in the UK.

https://metro.co.uk/2020/06/15/doctors-journey-warzone-nhs-prepared-trauma-coronavirus-wards-12853144/
Having worked in a warzone, Mohamad was prepared for the traumas of the Covid-19 ward. But when he arrived here, after time in a refugee camp and a perilous journey, he wasn't initially able to put his medical training and experience to use. He focused on learning English to the necessary standard, so that he could pass his British medical training, and once he had requalified he began work at Salford Royal Hospital before moving to Yorkwhere he
But determined to get back to his work, Mohamad made learning English his 'full-time job' so he could pass his British medical training and join the NHS as soon as he could. And the hard work paid off. In just seven months Mohamad passed his advanced English test – a process so difficult it often takes at least two years – and inspired other refugees at Reache with his determination. He regained his confidence, made friends, re-qualified and went on to work at Salford Royal Hospital for the next two years, before moving to York.
Worldwide, many other medics are desperate to help, but unable to requalify to work in their new homes.
Refugees and immigrants trained in medicine represent a large untapped pool of talent in many countries with time-consuming or expensive re-certification procedures and regulations. Many arriving in a new country must find work right away to survive and cannot afford to repeat education and training. Some try but cannot land residencies – which are required by all states in the US – or clinical experience.

The result is that hundreds of thousands of skilled medical professionals around the world are working in jobs that have nothing to do with their training – often low level jobs that require barely more than a high school degree. In the United States alone, as many as 263,000 immigrants and refugees with health-related degrees are unemployed or under-employed, according to the Migration Policy Institute think-tank.

https://www.unhcr.org/uk/news/stories/2020/5/5ebd461d4/coronavirus-spreads-refugee-doctors-want-join-fight.html
Perhaps we can hope that the urgent need for medically trained staff will lead more governments to ease the path to requalification. And even that
now that refugees and immigrants who trained overseas are risking their lives, the countries they are supporting will support them – even after the emergency ends.

https://www.unhcr.org/uk/news/stories/2020/5/5ebd461d4/coronavirus-spreads-refugee-doctors-want-join-fight.html
If you've not managed to catch up with any of the eclectic and exciting range of online events in the Migration Matters Festival yet, there's more to come.
And there are installations/virtual exhibitions that are available online till 21 June.

JUN15TO JUN 21Maya Productions, Ignite Imaginations
Installation • All agesVIEW EVENT →JUN15TO JUN 21Useful Productions
Installation • All agesVIEW EVENT →JUN15TO JUN 21Abdulwahab Tahhan
Podcast • 15+VIEW EVENT →JUN15TO JUN 21Asia-Art-Activism
Installation • All agesVIEW EVENT →JUN16TO JUN 22Ignite Imaginations
Installation • All agesVIEW EVENT →
I've written about Za'atari before, during Refugee Week. In 2017 and in 2018 I celebrated the creative collaboration between refugees living in the camp and researchers from the University of Sheffield, to solve the practical problems they were facing. This was not about parachuting in experts to tell people what they should do. The people in the camp were the real experts, in terms of understanding what was needed, the resources they had at their disposal, and the constraints (the ban on creating any permanent structures, for example) on the solutions they implement.
This isn't a one-way process. Because to solve the everyday problems in the camp they are working with, and not just for, the people in the camp.

Obviously not everyone living there has the kind of skills that can be pressed into service to help build the resources that the communities need, and not everyone is well and strong enough after the physical and mental traumas of flight to contribute in this way. But as a transit camp becomes a city the people living there can become again the people they were at home, can be part of the process of building and healing and problem-solving.

Innovative solutions to everyday problems are being developed, in collaboration with the people of Za'atari. Tony Ryan, the Director of the Centre, has been working with Helen Storey from the London College of Fashion, on resource use and repurposing in conflict zones, and on specific questions from the UNHCR about the design and manufacture of all kinds of things that we take for granted, like sanitary wear, make-up and bicycles. Resources are scarce in the camp, where 80,000 people share 6 sq km of space, and nothing is left to waste.
Home to 80,000 people. Intended as a temporary, transitory place, but evolving in to a long-term home for so many displaced by war. It's Jordan's fourth biggest city. Seen from above, as it is often is, to emphasise its sprawling scale, it's easy to forget that in that city, as in any city, people are living their lives.
So how is life in this refugee city in the time of Covid-19?
Refugees are among the most vulnerable to the consequences of the pandemic, because they often reside in overcrowded camps, settlements and urban areas in cramped conditions with inadequate access to fresh water and hygiene supplies.
Syrian refugees in the Za'atari refugee camp in Jordan are struggling to meet basic needs as they can no longer leave the camp to work. Their poor nutrition will inadvertently increase their vulnerability to disease. It doesn't help that livestock are often not allowed in formal relief camps, since they could contribute to people's livelihoods and food, improving nutrition.

https://theconversation.com/coronavirus-lockdowns-force-the-worlds-poorest-into-deadly-trade-offs-between-their-health-and-livelihoods-136820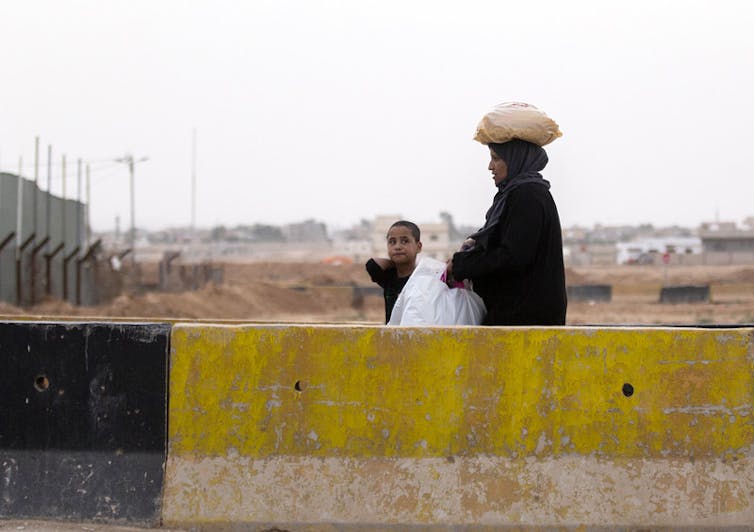 But that spirit of innovation lives on.
A group of five Syrian refugee students built a sanitation robot out of LEGO bricks to help their community prevent a coronavirus outbreak. The idea came from Marwan al-Zoubi, who sought refuge in Jordan in 2013 after fleeing the Syrian city of Daraa. He began studying robotics in 2019 with the support of the Blumont organization and now teaches children robotics at the UNHCR's Zaatari Innovation Lab.

"One of the causes of infection with COVID-19 is contact with surfaces, so I had the idea of designing a robot to sanitize one's hands without the need to touch the sanitizer bottle," Zoubi told Al-Monitor. UNHCR's Innovation Lab provided the necessary raw materials and funds for the simple LEGO prototype that uses a sensor to automatically dispense sanitizer.

Read more: https://www.al-monitor.com/pulse/originals/2020/05/jordan-zaatari-syrian-refugee-camp-robot-coronavirus.html#ixzz6Pcch9GSQ
And the partnership between Za'atari residents and Sheffield researchers continues to flower, even though the latter cannot be there in person.
Amidst Jordan's arid landscape, there's a tennis-court sized desert garden alive with plants being grown by refugees using foam, not soil.

The families involved in the project speak of benefits beyond having fresh food for the first time in years: Improving mental health and wellbeing, gaining new skills, maintaining important cultural and social traditions, finding a new sense of purpose and a feeling of empowerment. With many discarded mattresses being saved from landfill, there's an important environmental impact too.

https://www.sheffield.ac.uk/sustainable-food/news/desert-garden-appeal

Scientists at the University of Sheffield are world-leading experts in hydroponics. Using highly advanced materials for commercial enterprise, they have been developing the technique at their lab in the city for many years. Duncan Cameron, Professor of Plant and Soil Biology and Tony Ryan OBE, Professor of Physical Chemistry, joined the dots between this high-tech work with polyurethane foam in Sheffield and a pile of old mattresses in the Zaatari camp. They set out to see if this most low-tech of materials could mimic the high-tech foams they were using in the lab. Turns out they could.

Soon after, the innovative Desert Garden project began, with both humanitarian and sustainable aims at its core: Use waste materials to grow fresh food in the desert for people displaced by war. The project is being managed by Dr Moaed Al Meselmani, a Syrian refugee himself, and a soil scientist currently working at the University of Sheffield.
You can donate to help keep the project going here: https://www.sheffield.ac.uk/sustainable-food/news/desert-garden-appeal
UNHCR has implemented a preventive plan to counter the spread of COVID-19 in Syrian refugee camps. Movement in and out of the camps is under strict medical scrutiny and all vehicles entering the premises are being sterilized," UNHCR spokesman Mohammad al-Hawari explained. 

"UNHCR also suspended all visits," Hawari added. "We have medical centers and quarantine areas that are ready in the event the Jordanian government hospitals no longer have room for patients. We also have teams with extensive experience in fighting the spread of epidemics such as the bird and swine flu and Ebola in different areas of the world."

He went on, "By early May, UNHCR had contributed $1.2 million to the Jordanian Ministry of Health to help purchase medical and laboratory materials and PPE."

At the end of March, UNHCR made an appeal for $27 million to help prevent the spread of the coronavirus in Jordan, part of a global appeal for $255 million to support urgent preparedness and response measures for refugees and forcibly displaced people.

https://www.al-monitor.com/pulse/originals/2020/05/jordan-zaatari-syrian-refugee-camp-robot-coronavirus.html
If we think we know what it is to be locked down, just imagine, if you can, being locked down in a refugee camp. Unable to go home, even if it was safe to do so. Unable to move on to start to build a new life somewhere else. We may be all in the same storm…
The threat from Covid-19 is not just the threat of serious illness and death. It is the threat of loss of livelihood, of loss of freedom of movement, of loss of educational opportunities. It may be the threat of being locked down with someone who abuses or exploits you or your children. It may be that you can't get the food you need, or medical treatment, or advice and support.
Refugees and asylum seekers in the UK face all of these threats, and more. The Refugee Council's open letter calls upon the government to address three key issues:
Increase asylum support by £20 per week to bring it in line with Universal Credit. This increase is vital for people seeking asylum trying to look after themselves and their families during the coronavirus pandemic.

Make it possible for people to claim asylum without having to travel. Currently people seeking asylum are still being required to travel in order to make a claim, in direct contradiction to the Government's own travel restrictions and rules on social distancing.

Give all people seeking asylum accommodation suitable for social distancing and self-isolation. No-one should be made to share a room, but sadly this is the reality for some people in the asylum system and this is not acceptable.

https://act.refugeecouncil.org.uk/campaign/call-home-secretary-priti-patel-protect-people-seeking-asylum-during-pandemic
https://www.refugeecouncil.org.uk/latest/news/our-key-policy-calls-to-the-home-office-in-response-to-covid-19/
People on asylum support are provided with just over £5 per day to cover their essential living needs.   Those who were already struggling are now finding it harder still – they are issued with prepaid cards that are only uploaded with credit weekly, and can only be used in certain shops. In addition, the need for mobile phone credit/data is much greater when face to face appointments are not available. Those who are in receipt of Universal Credit have seen their allowance increased by £20 a week for the next year. Those seeking asylum were getting far less than UC claimants anyway, and have now been told that their support rates will increase by 26p per day, less than 1/10th of the UC uplift. No one is suggesting that the UC claimant is being showered with largesse, far from it. But asylum seekers are, in this as in so many other respects, the worst off amongst the worst off.
Currently, to make a claim for asylum once you are in the UK, you must attend an Asylum Intake Unit. There are currently seven of these around the country (previously there was just one, in Croydon). But even with these new regional units, most people will have to use public transport to get there, exposing them to infection on what may be long and complex journeys. And many asylum seekers have health problems, arising from the situations that caused them to flee in the first place, the conditions in refugee camps or the exigencies of the journey here, and then poverty and poor quality accommodation on top of that.
The quality of accommodation for asylum seekers already raises serious public health concerns. Arrangements such as bedroom sharing between unrelated adults, communal eating facilities and crowded social spaces make social distancing difficult, and self-isolation almost impossible. Concerns have also been raised about the provision of sufficient hygiene and sanitation products in both Initial Accommodation centers and hotel provision.
In addition to the above, many of the drop-in facilities, the conversation classes, the informal support provision, have had to close. Support organisations are struggling to maintain effective contact with their clients – this is not just about the digital and technological aspects of communication, there are also frequently language barriers.
The closure of drop-in centres means isolated people become even more lonely, while others are at risk because they no longer have access to the services they rely on such as showers or washing facilities.

A third of the organisations we spoke to were still offering some kind of face-to-face support, delivering food parcels, making cash payments and continuing with casework for more vulnerable people.

https://www.refugee-action.org.uk/the-5-biggest-challenges-covid-19-poses-to-supporting-refugees-and-people-seeking-asylum/

The threat of disease will not stop refugees from leaving home, not when those homes are still being bombed or attacked by terrorists, not when they face persecution because of their faith or their political convictions, or their sexual orientation, not when the alternative is starvation. That they survive the terrors of the journey only to face destitution here is bitter enough. But they find themselves facing a new threat, one to which their poverty and lack of choice leaves them especially exposed.
We are all in the same storm, facing the same perils. But whilst many of us are in robust crafts, some are in leaking dinghies. Some are drowning.
… goes virtual!
Sheffield was the UK's first City of Sanctuary and it is a city that is made vibrant by its diversity and interconnecting cultures. This year's 5 day festival seeks to celebrate this history and culture with a vibrant and inclusive series of events.
Opening on the 15th June, Migration Matters Festival will run alongside the annual Refugee Week celebrated across the UK and together with national partners deliver an online and digital programme which will bring people together across the world
Instead of hosting events across the city centre and community hubs, the venues will be online platforms like zoom, Vimeo, Facebook, Instagram and Migration Matters' own website hub. For the full programme, see Festival 2020 on the website.
As ever there's a rich and soulful programme that brings the diverse and global mix of Sheffield's communities together with artists from all over the world in a celebration of food, culture and performance.
To support our 2020 Online Festival progamme check out the donation page here. All proceeds will support the ongoing work of the festival and also be split with two incredible charities, South Yorkshire Refugee Law & Justice and Lesbian Asylum Support Sheffield.