I've written about Za'atari before, during Refugee Week. In 2017 and in 2018 I celebrated the creative collaboration between refugees living in the camp and researchers from the University of Sheffield, to solve the practical problems they were facing. This was not about parachuting in experts to tell people what they should do. The people in the camp were the real experts, in terms of understanding what was needed, the resources they had at their disposal, and the constraints (the ban on creating any permanent structures, for example) on the solutions they implement.
This isn't a one-way process. Because to solve the everyday problems in the camp they are working with, and not just for, the people in the camp.

Obviously not everyone living there has the kind of skills that can be pressed into service to help build the resources that the communities need, and not everyone is well and strong enough after the physical and mental traumas of flight to contribute in this way. But as a transit camp becomes a city the people living there can become again the people they were at home, can be part of the process of building and healing and problem-solving.

Innovative solutions to everyday problems are being developed, in collaboration with the people of Za'atari. Tony Ryan, the Director of the Centre, has been working with Helen Storey from the London College of Fashion, on resource use and repurposing in conflict zones, and on specific questions from the UNHCR about the design and manufacture of all kinds of things that we take for granted, like sanitary wear, make-up and bicycles. Resources are scarce in the camp, where 80,000 people share 6 sq km of space, and nothing is left to waste.
Home to 80,000 people. Intended as a temporary, transitory place, but evolving in to a long-term home for so many displaced by war. It's Jordan's fourth biggest city. Seen from above, as it is often is, to emphasise its sprawling scale, it's easy to forget that in that city, as in any city, people are living their lives.
So how is life in this refugee city in the time of Covid-19?
Refugees are among the most vulnerable to the consequences of the pandemic, because they often reside in overcrowded camps, settlements and urban areas in cramped conditions with inadequate access to fresh water and hygiene supplies.
Syrian refugees in the Za'atari refugee camp in Jordan are struggling to meet basic needs as they can no longer leave the camp to work. Their poor nutrition will inadvertently increase their vulnerability to disease. It doesn't help that livestock are often not allowed in formal relief camps, since they could contribute to people's livelihoods and food, improving nutrition.

https://theconversation.com/coronavirus-lockdowns-force-the-worlds-poorest-into-deadly-trade-offs-between-their-health-and-livelihoods-136820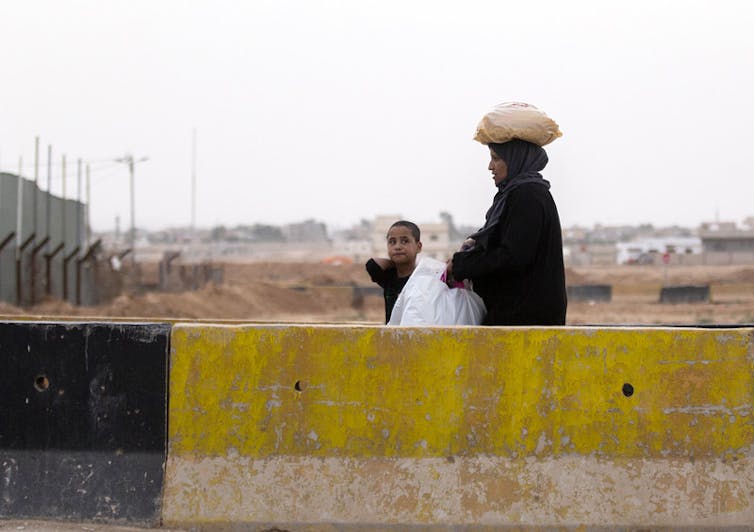 But that spirit of innovation lives on.
A group of five Syrian refugee students built a sanitation robot out of LEGO bricks to help their community prevent a coronavirus outbreak. The idea came from Marwan al-Zoubi, who sought refuge in Jordan in 2013 after fleeing the Syrian city of Daraa. He began studying robotics in 2019 with the support of the Blumont organization and now teaches children robotics at the UNHCR's Zaatari Innovation Lab.

"One of the causes of infection with COVID-19 is contact with surfaces, so I had the idea of designing a robot to sanitize one's hands without the need to touch the sanitizer bottle," Zoubi told Al-Monitor. UNHCR's Innovation Lab provided the necessary raw materials and funds for the simple LEGO prototype that uses a sensor to automatically dispense sanitizer.

Read more: https://www.al-monitor.com/pulse/originals/2020/05/jordan-zaatari-syrian-refugee-camp-robot-coronavirus.html#ixzz6Pcch9GSQ
And the partnership between Za'atari residents and Sheffield researchers continues to flower, even though the latter cannot be there in person.
Amidst Jordan's arid landscape, there's a tennis-court sized desert garden alive with plants being grown by refugees using foam, not soil.

The families involved in the project speak of benefits beyond having fresh food for the first time in years: Improving mental health and wellbeing, gaining new skills, maintaining important cultural and social traditions, finding a new sense of purpose and a feeling of empowerment. With many discarded mattresses being saved from landfill, there's an important environmental impact too.

https://www.sheffield.ac.uk/sustainable-food/news/desert-garden-appeal

Scientists at the University of Sheffield are world-leading experts in hydroponics. Using highly advanced materials for commercial enterprise, they have been developing the technique at their lab in the city for many years. Duncan Cameron, Professor of Plant and Soil Biology and Tony Ryan OBE, Professor of Physical Chemistry, joined the dots between this high-tech work with polyurethane foam in Sheffield and a pile of old mattresses in the Zaatari camp. They set out to see if this most low-tech of materials could mimic the high-tech foams they were using in the lab. Turns out they could.

Soon after, the innovative Desert Garden project began, with both humanitarian and sustainable aims at its core: Use waste materials to grow fresh food in the desert for people displaced by war. The project is being managed by Dr Moaed Al Meselmani, a Syrian refugee himself, and a soil scientist currently working at the University of Sheffield.
You can donate to help keep the project going here: https://www.sheffield.ac.uk/sustainable-food/news/desert-garden-appeal
UNHCR has implemented a preventive plan to counter the spread of COVID-19 in Syrian refugee camps. Movement in and out of the camps is under strict medical scrutiny and all vehicles entering the premises are being sterilized," UNHCR spokesman Mohammad al-Hawari explained. 

"UNHCR also suspended all visits," Hawari added. "We have medical centers and quarantine areas that are ready in the event the Jordanian government hospitals no longer have room for patients. We also have teams with extensive experience in fighting the spread of epidemics such as the bird and swine flu and Ebola in different areas of the world."

He went on, "By early May, UNHCR had contributed $1.2 million to the Jordanian Ministry of Health to help purchase medical and laboratory materials and PPE."

At the end of March, UNHCR made an appeal for $27 million to help prevent the spread of the coronavirus in Jordan, part of a global appeal for $255 million to support urgent preparedness and response measures for refugees and forcibly displaced people.

https://www.al-monitor.com/pulse/originals/2020/05/jordan-zaatari-syrian-refugee-camp-robot-coronavirus.html
If we think we know what it is to be locked down, just imagine, if you can, being locked down in a refugee camp. Unable to go home, even if it was safe to do so. Unable to move on to start to build a new life somewhere else. We may be all in the same storm…